APRIL THANKO RODEO PART 3 OF 3: Two Extra Arms to Hold Your Gear
APRIL THANKO RODEO Part 3
Thanko is an Akihabara-based company that churns out a steady stream of uber-Japanese products that, admittedly, can seem a bit frivolous or indulgent. Once you give the gadgets a little thought, however, it becomes clear that a good amount of practical consideration went into the design...uhhhh, most of the time. 
We really like this company, and this month there are just too many hits coming, so we're doing a rapid-fire posting of our favorite three thus far (See also: Part 1 & Part 2).
Part 3: Extra Desktop Arms to Hold Your Stuff
The clear, clean workspace is a keyboard pounder's dream - one that usually seems completely hopeless. But if one could get one's mobile gadgetry off the desktop and open up space for referencing handwritten notes or documents, or fiddling around with cameras and what not, or just making room for one's sandwich as one works through yet another lunch, etc., etc., one would be pleased.
The utility of this thing is basically limited only to our imagination: quickly referencing calendars or other productivity apps, pulling up a YouTube video, checking Twitter, on and on. For those who've managed to dial in the tablet-as-second-monitor setup, this is pretty hard to beat. The arm rack can be mounted on any desk or hard surface (bed frames, kitchen/coffee tables, etc.), and the arms are fully articulable in basically all degrees of freedom.
All but the largest phablets will fit in the smartphone clamp, and the tablet rack can accommodate almost any-size device in landscape orientation. Additionally, and particularly thoughtful, two rigid, L-shaped attachments that more effectively place the device in one's field of view are included. 
While it's not quite there yet, what would really take these arms into super-useful level would be integrated USB/Lightning/Mini- & Micro-USB cables for charging and syncing and stuff - maybe we'll see that in version 2!
Vital Specs:
Dimensions: Smartphone holder: width 71 × height 78 × depth 77; Smartphone arm: diameter 10, length 700; Tablet holder: Width 150 × height 165 × depth 55; Tablet arm: diameter 12, length 730; L-shaped attachment: width 31 × height 143 × depth 100; Clamp attachment footprint: width 51 × height 105 × depth 91 (millimeters)
Weight: 1311g
Phone Size Compatibility: 106mm wide or less; 19mm thick or less
Tablet Size Compatibility: 109~230mm wide; 18mm thick or less
Includes: Smartphone holder, smartphone arm, tablet holder, tablet arm, L-shaped attachment × 2, lock nut × 4, clamp attachment base, Japanese manual 
Price: ¥3,480 (~$29)
Glamour Shots & Gif: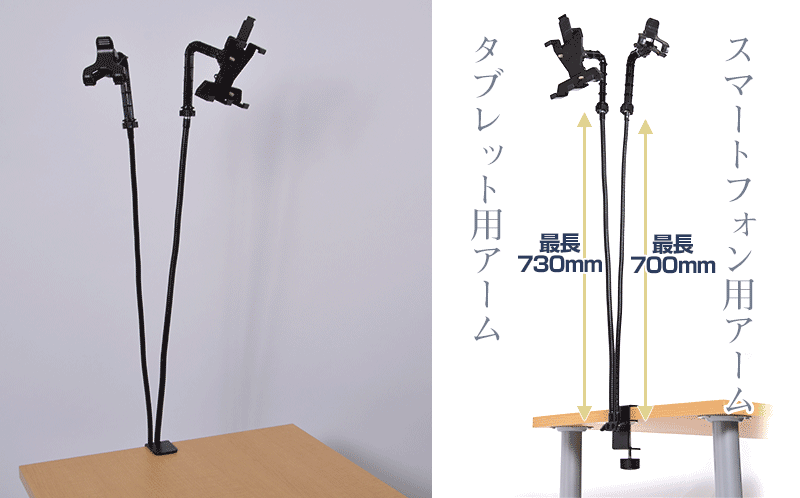 [MORE]
All Thanko Product News & Coverage